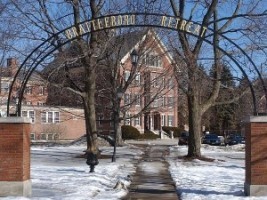 Bond Series: 2015 Series A and Series B
Closed: July 15, 2015
Bond Size: Series A $11,233,755 Tax-Exempt; Series B $2,905,000 Taxable
Credit Rating:
Purchaser: Citizens Bank
Interest Rate: Series A - Fixed Rate 3,0191$; Series B - Taxable variable rate-30 day LIBOR + 1.72%
Final Maturity: Series A - 2031; Series B 2019
Yield: N/A
Purpose: The bonds will be used to: i) refund the Retreats outstanding $11.2 million Series 2011A bonds; ii) refund a bank loan in the amount of $2.9 million; and iii) pay for issuance costs related to the financings.
Project Benefit: The financings are expected to save the Brattleboro Retreat over $800 thousand in debt service over the life of the bonds. The 2015 bonds will also reduce the Retreat's variable interest rate exposure, eliminate remarketing risk and the risk of a downgrade to the Letter of Credit provider.