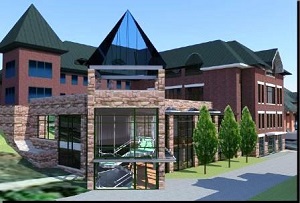 Bond Series: 2014 Series A & Series B Bonds
Closed: July 30, 2014
Bond Size: 2014 SA - $6,250,000; 2014 SB - $6,250,000
Credit Rating:
Interest Rate: 2014 SA - Fixed Rate; 2014 SB - Variable Rate
Final Maturity: 2014 SA and 2014 SB 2024
Yield: 2014 SA - 2.66%; 2014 SB - Set monthly at 69.5% of one month LIBOR plus 140 basis points
Purpose: The bonds will be used to: i) construct The Centers for Communications and Creative Media; ii) make alterations to the existing Hauke Center and Alumni Auditorium; iii) fund certain other campus improvements; and iv) pay for issuance costs related to the financing.
Project Benefit: The building constructed will be the new academic home to the CCM Academic Division of Champlain College. The other funded improvements will allow Champlain to meet several strategic initiatives that will benefit the campus at large. In addition to providing additional educational programming opportunities, the College feels that the project will help with student enrollment and retention.
Economic Benefits: The majority of subcontractors and suppliers are Vermont businesses, the only subcontractors that are not are the structural steel supplier, elevator and shoring. Over 80% of the overall project costs will eventually be processed through Vermont based businesses. The College will have over 25 subcontractors involved with the project with anywhere from 1-2 employees to 15-20. The local based architectural/engineering team and their consultants have been involved in this project over the last 4 years.